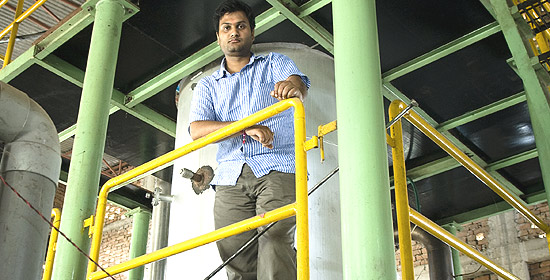 Vivek Gupta, Saran Renewable Energy
The Mission: Set up small renewable- energy plants to power entire villages.
The Benefits: Garkha is getting power. At least eight more plants planned in Bihar.
Teenagers in Saran district of Bihar have found a new idol. Their elders may still want them to become an engineer or a civil servant, but they would rather turn entrepreneur and do something for their villages, just the way 32-year old Vivek Gupta did.

Gupta, who grew up spending several nights without electricity at home in Chhapra district, the aim has been to "electrify" the villages around Saran, and those little pockets in the country where the state's grid-power is yet to reach.

"Since I know what they face, I feel it is my resposibility to provide electricity in those villages where kids light the midnight lamp to finish their studies," says Gupta, who founded Saran Renewable Energy, a small firm which generates electricity from renewable raw materials such as agricultural waste biomass--rice and wheat husk, plant stalks, juliflora, waste wood and corn cobs, among others.

Since 2006 when Saran was set up, the company has lit up more than 200 homes, dozens of small business units, a school, and a medical centre in Garkha, one of the most under-developed villages of Saran. "We provide eight to ten hours of regular supply of electricity at `8-10 a unit, about 40% cheaper than diesel gensets," says Gupta. Gupta has built a bio-mass gasification plant with a capacity of 120 kilowatt in Garkha, and uses the gas to generate electricity. He further identified Dhaincha, a local woody plant, which can be easily and profitably grown by local farmers on uncultivated waterlogged land, for use as the main fuel (85%) for the plant.

Gupta's team of fifteen people encourages villagers to grow such crop and strengthen the plant's backward integration, and in return pay the villagers for the produce. With this fuel, Saran releases little carbon footprint and helps save over 200 tonnes of carbon dioxide a year, which makes the project eligible to earn carbon credits. "We are approaching corporates to buy carbon credits from us," says Gupta.

The demand for electricity from the nearby villages is growing over 80% year-on-year. In order to bridge the gap, Gupta has chalked out plans to build small plants with a capacity of 30 kw to 60 kw that can power small villages, and of 4-6 megawatts, for neighbouring districts such as Dewan, Vaishali and Muzzafarpur. To fund the expansions plans, he has recently raised `6 crore from a domestic private equity fund by selling 46% equity stake.

The firm, which kick-started with an investment of `80 lakh, has already notched up revenues of `1.5 crore in the 2009-10 fiscal year, and is growing at 30% year-on-year. After getting a management degree, Gupta spent eight years working with companies such as ICICI Bank, Standard Chartered and Tata Steel. The idea came to his mind when he was manager with ICICI Bank in Saran. "The bank was trying to set up a renewable energy plant and I thought I could do one myself," recalls Gupta.